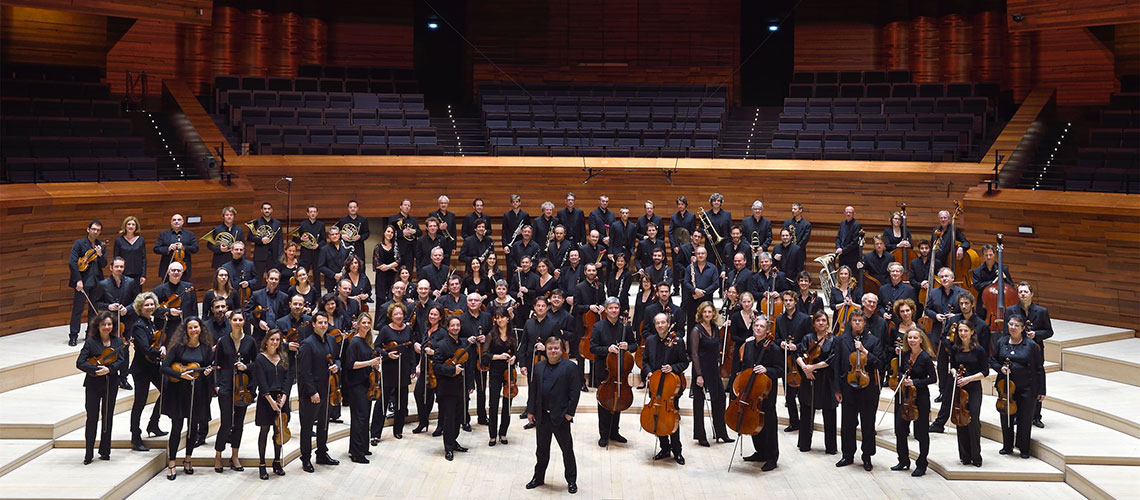 All proceeds from this concert will be donated to the
to the Monegasque Red Cross in favor of Ukraine.
« Le siècle rouge : les musiciens soviétiques face au pouvoir »
par Charlotte Ginot-Slacik, musicologue
avec Bruno Mantovani, directeur artistique du festival
Café du Cirque de Monte-Carlo
20H – CONCERT
Chapiteau de Fontvieille
Durée approximative 1h30
avec Colin Currie, Bruno Mantovani
et Anna Vinnitskaya
Hôtel Hermitage, Crystal Bar
Sergueï Prokofiev
Quintette en sol mineur, op. 39
Bruno Mantovani
Allegro barbaro, concerto pour percussions et orchestre (création mondiale)
Dmitri Chostakovitch
Concerto pour piano, trompette et orchestre à cordes en do mineur, op. 35
Igor Stravinsky
Jeu de cartes
Alexandre Baty, trompette
Colin Currie, percussions
Anna Vinnitskaya, piano
Virginie Buscail, violon, Marc Desmons, alto, Yann Dubost, contrebasse, Hélène Devilleneuve, hautbois, Nicolas Baldeyrou, clarinette
Orchestre Philharmonique de Radio France
Mikko Franck, direction musicale
Bruno Mantovani, direction
Acrobatics and metamorphoses
"The subject of this ballet, in which the characters are the main figures in a deck of cards, takes its inspiration from a poker game, played by several adversaries on the green baize of a gambling parlor. Each deal is complicated by the constant cunning of the perfidious, untiring Joker, who believes himself to be invincible, thanks to his ability to transform himself into any card whatsoever." In 1936, Igor Stravinsky, for whom this was not his first ballet, seems to have taken a mischievous delight in composing Jeu de cartes, of which he here presents the synopsis (of his own devising). The work's plot is even perceptible in the concert version. In three successive deals, announced by the same majestic introduction, the joker begins to narrowly lose (despite his show of strength in a sardonic dance), then manages to overcome four queens (cutting off their four elegant variations) before losing everything following an indecisive battle, finally won by a royal flush!
A great poker buff, Stravinsky conceived a playful score for the American Ballet of New York. In it, he reveals himself to be a composer-joker capable of metamorphoses. To depict the ceremonious bids of the croupiers, the brass imitate the great Baroque overtures; for the parade of the four queens, Stravinsky takes up and distorts the mechanical march of Ludwig van Beethoven's Eighth Symphony (Allegretto scherzando); the final battle between spades and hearts begins with the barely-reworked overture to Gioachino Rossini's Barber of Seville, etc. But in spite of all these allusions, Stravinsky never cheats: his colorful orchestration, dry rhythms and contrapuntal work clearly stamp his seal on the ballet.
At this same period, Dmitri Shostakovich also indulged in quotation, to thumb his nose at pianist Lev Oborin, who had been disappointed by the lack of a cadenza in the Concerto for piano, trumpet and strings. The composer thus finally added a virtuosic solo to his finale – ironically inserting Beethoven's Rondo "Rage over a Lost Penny"! This is not the only amusing detail in this concerto, which stands out for its singular treatment of the trumpet, neither a true equal of the piano nor a member of the string orchestra. In the outer movements, it seems to comment on the action more than participate in it, sometimes with sarcastic trumpet calls, sometimes with flights disconnected from the whole.
In keeping with the esthetic doctrines then in force in the Soviet Union, the score (premiered in Leningrad in 1933) is primarily written in a neoclassical language that employs old pianistic and compositional gestures (fast scales, accompaniment in repeated notes, bright harmonies). But the gravity of the Lento is well rooted in its era, bringing to mind Ravel's Concerto in G, first performed a few months earlier. And, in the somber, arid counterpoint that emerges in places, we can make out the icy style that will soon be the composer's trademark in face of the horrors of his time…
In the Paris of 1924, Serge Prokofiev was free to experiment as he pleased in his Quintet, Op. 39, conceived for the unusual formation of oboe, clarinet, violin, viola and double bass. Fruit of a commission from Boris Romanov, a dancer with Sergei Diaghilev's Ballets Russes, this score was initially meant to accompany Trapèze, a dance production the theme of which was the life of travelling circus performers.
Unlike Jeu de cartes, the Quintet is not based on a libretto. Prokofiev thus elaborates a little ballet of abstract music, where the expressiveness of the timbres and the discourse alone must evoke and accompany the circus acts. The composer takes particular care in the individual characterization of each instrument – which he would later take even further with Peter and the Wolf. The clarinet, whose replies seem more than once to occur at the wrong moment (in the first movement), takes on a real clownish side; the double bass plays on its elephantine heaviness; the violin trapeze artist launches into a vivacious number punctuated with high-flying glissandi… Prokofiev uses many tricks of musical sleight-of-hand to portray a teeming spectacle, in spite of the modest forces, using, more than once, polytonality, changing time signatures (third movement) and unusual playing methods (pizzicati, harmonics, double-stopping, etc.).
Bruno Mantovani's intention in Allegro barbaro is to create variety of movement working with a limited instrumentarium. The title of this concerto for percussion and orchestra refers to Béla Bartók's famous piano miniature. The Hungarian composer's work is a piece of art brut – Mantovani thus chooses to make the percussion unpitched, in front of an orchestra deprived of its harmonic expressiveness. Receiving its world premiere at this year's Printemps des Arts, the work gives pride of place to the skins and explores varied treatments of its sounds, adopting writing that is, in turn, melodic, obstinate, repetitive, etc., recalling the works of Xenakis, of jazz or even of pop. Prokofiev's high-wire numbers and the metamorphoses of Stravinsky's joker are not far distant.
Tristan Labouret
Photo ©Abramowitz