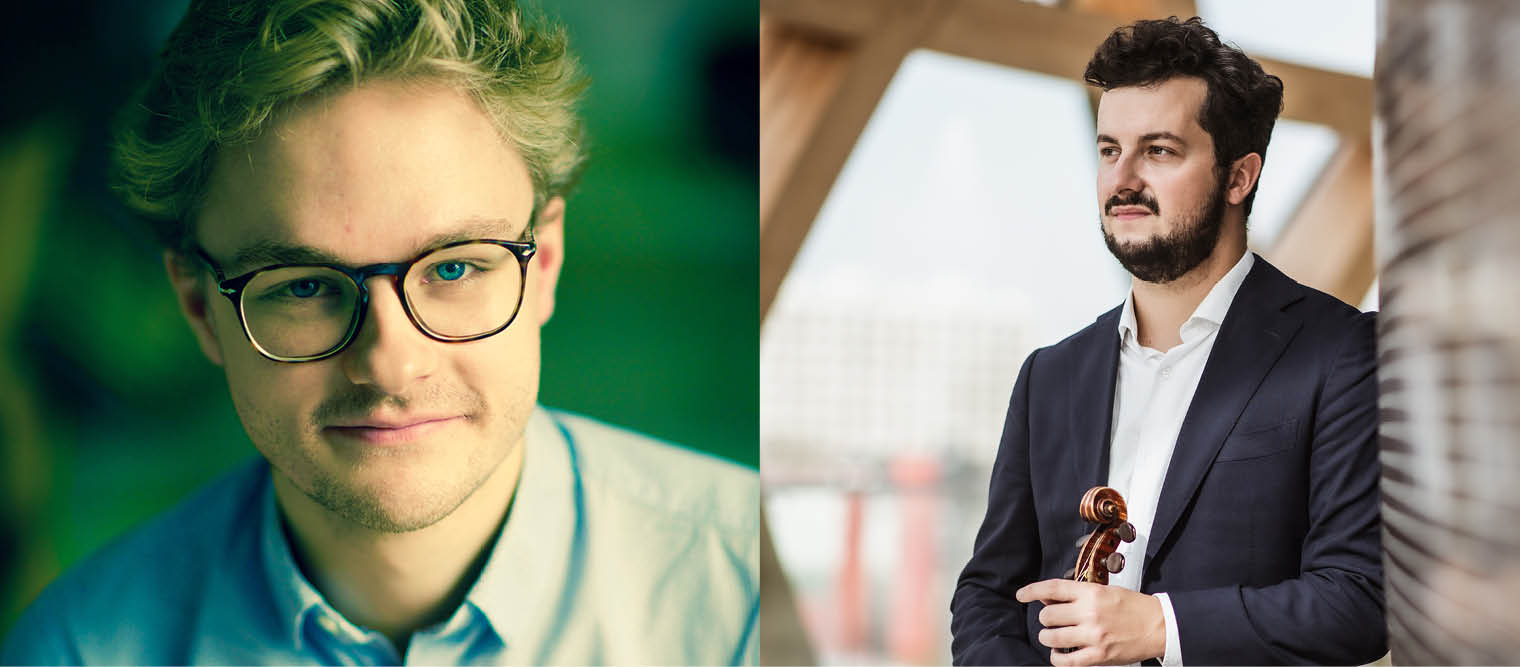 15H – CONCERT-DÉGUSTATION POUR DEUX VIOLONS
Lycée Technique et Hôtelier
Durée approximative 1h30
Jean-Marie Leclair
Sonate pour deux violons sans basse, op. 3 no 1
Sergueï Prokofiev
Sonate pour deux violons en do majeur, op. 56
Luciano Berio
Duos pour deux violons (extraits)
Béla Bartók
44 duos pour deux violons, Sz. 98, quatrième cahier
Gaspard Maeder et Hugo Meder, violons
Friendship and imitation
There is a unique kind of interaction between two instruments of the self-same kind, as opposed to what may develop between different instruments. Presenting a series of violin duos, all masterpieces of their genre, this concert provides an opportunity to savor this particularity.
An intriguing initial observation is that a duo for two violins never transforms into a love duet. This mirror-gazing face-to-face encounter seems not to correspond to the idea held by Western music – particularly during the Romantic period – of the fundamental otherness of love partners. The duo, when formed of two equal protagonists, is more a matter of conviviality and friendship or, inversely, of rivalry and conflict – as can be heard in certain passages in the second movement of Prokofiev's Sonata op. 56.
Another reason may be related to the violin duo's relative "poverty" of sound. Limited to the higher registers, the two instruments have little harmonic depth and, naturally, two identical instruments offer limited timbral variety. Expressing a great range of amorous sentiment is therefore not easy. It is noteworthy that this risk of monotony leads composers to favor very short pieces, full of contrast. None of the movements in the program last more than five minutes.
Conviviality is often matched by courtesy – while one of the partners may step back, to accompany the other, balance nonetheless requires that these roles be regularly exchanged. This alternation characterizes, for example, the third movement of the Prokofiev Sonata, which resembles a classical aria, with a generous accompanied melody. The accompaniment must, however, be sufficiently varied. Here, it contains double stops or even three- or four-note chords, demonstrating the violin's polyphonic nature, or takes a contrapuntal form, avoiding harmonic poverty through its volubility, agility and rich variety of attack and articulation. These techniques were already perfected by Jean-Marie Leclair, a pioneer of the genre, in the two volumes of duos he wrote in 1730 and 1747. To enrich the sound, folk music often uses the resonance of open strings, typical of bowed instruments. Leclair uses this technique (which sounds like a musette) in the second movement of his Sonata in G major op. 3 no. 1. Bartók also makes abundant use of it in all his duos.
Sometimes, neither of the twin instruments will give way to the other. Such is the case in the first movement of Prokofiev's Sonata, where the two broad melodic arches pull far away from each other, brush against each other in bitter dissonance or come together in disturbing unison. Superb contrapuntal mastery and understanding of the violin's different registers of sound go to create the work's fascinating, intense expressiveness.
There is a very old and rich tradition of educational duos for two violins. The genre obviously often involves imitation of the master by the student – sometimes strict, to the point of being canonic. Indeed, one wonders if Leclair's duos might not also have fulfilled a pedagogical function. In any event, Erich Döflein aligned with the tradition when, in 1931, he asked Béla Bartók to write violin duos for the Method (still in use to this day) that he and his wife Emma were intending to publish. These duos are largely inspired by Eastern European folk music, in which the violin plays an important role, but, as always with Bartók, the source of inspiration is treated with great contrapuntal and harmonic mastery. There are numerous and sometimes very elaborate canons. Divided into four volumes, the 44 Duos are also intended for concert performance, Bartók having suggested performing a complete group of them together – which will be done in this concert, by playing the entire fourth book.
The title of each of Luciano Berio's 34 Duos corresponds to a well-known figure he liked or admired. The first duo is entitled Béla, in reference to Bartók and his duo collection. Berio's duos are also intended to be educational. They are fanciful little miniatures, such as the strange waltz of Bruno (Maderna) or the almost imploring aria of Peppino (Di Giugno), that Berio himself compared to "occasional verse", "connected by the tenuous thread of daily circumstance", in that they are inspired by a memory, sometimes trivial, shared by the composer and the dedicatee. The theme of friendship is thus also present here, each duo being like a unique and personal object offered as a gift to a friend.
Fabien Roussel
Photo Gaspard Maeder ©Philippe / Lefaure Hugo Meder ©Amandine Lauriol
---
Parking de La Colle : Forfait spectacle "Festival Printemps des Arts" 4€*
(pay on presentation of the concert ticket at the reception of the car park – valid for an arrival up to 1h before the event. 1st hour free and night rate from 7pm: 0,60€* / hour) *subject to rate changes in 2022