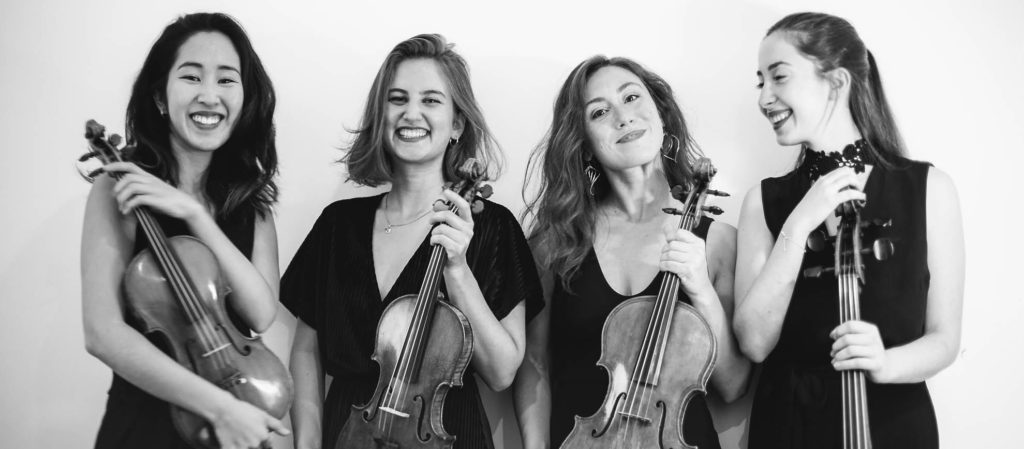 FRENCH MUSIC OF THE LATE 19th CENTURY
8.30pm – OPÉRA GARNIER
The young Mona Quartet was born at the Paris Conservatoire, the cradle for learning the French style. These musicians allow Ravel's masterpiece its full expressive freedom. Less well known is the work of Jean Cras, musician and naval officer, who travelled the world composing music on the ships he captained. Chausson's Chanson Perpetuelle is another kind of voyage – riding the delicate waves of the poetry of Charles Cros.

Free shuttle service
Photo / Quatuor Mona ©Verena Chen
Ernest Chausson
Chanson perpétuelle, pour quatuor à cordes, soprano et piano, op. 37
Jean Cras
Quatuor à cordes n° 1 « À ma Bretagne »
Maurice Ravel
Quatuor à cordes en fa majeur, op. 35

Quatuor Mona,
Victoire Bunel, mezzo-soprano
Guillaume Bellom, piano
A production of ProQuartet – European Center for Chamber Music, Paris.
ProQuartet is supported by the DRAC Île-de-France and Région Île-de-France.
ProQuartet's principal patron is Mécénat Musical Société Général.
---
After the concert, a visit to the Lars Fredrikson "Listening Room" – Opéra Garnier
limited seating capacity, reservation necessary +377 97 98 32 90